Processing ACSR and Utility Cable
The key behind processing ACSR (Aluminum Conductor Steel Reinforced cable) is the Sweed Chopper Model 5700 series. When coupled with Sweed's Magnetic Separator, the 5700 becomes such an effective ACSR processor that companies are having no problem keeping up with large amounts of scrap cable. Sweed's ACSR processor is the only one of its kind. The chopper Model 5700 is a heavy-duty machine capable of being hand fed or despooling heavy ACSR and insulated cable off reels and chopping the material into small cut lengths to prepare it for further separation. The 5700 contains one stationary knife and between one and four rotating knives depending on the preferred cut length of the material and the pounds of production desired per hour. Each knife can be rotated four times and yields 100,000 – 150,000 pounds of material per edge. After the ACSR is chopped and released from the bottom of the chopper, the aluminum and steel travel on a heavy-duty rubber belt to the separator. There, the magnet neatly and efficiently pulls the steel away from the valuable aluminum. The steel is secured to the powerfully magnetized roller-head and travels over the end of the roller where it is dropped into a bin underneath the separator. The aluminum continues to travel and is collected in a different container, ensuring a clean division of the ferrous and nonferrous metals. The Magnetic Separator is built from tough stainless steel for years of use and to prevent any problems with the magnet affecting any of the other metal surfaces. Using the 5700 Magnetic Separator is a value-added operation. Chopped and separated ACSR can bring three times the price of conventionally processed scrap.
The Model 5700 series choppers are designed to meet the toughest linear recycling challenges and are especially suited for processing high volumes of ACSR and multi-strand communications cable. Unique front opening feedworks, taper-lock flywheel/shaft assemblies, and high-performance bearings make the 5700 series choppers a remarkably tough chopper that is easy to service and maintain even when used in high-production environments. The 5700 series is widely recognized in the industry for pre-chopping reeled cable off the spool and can be tuned to virtually any linear scrap chopping application—delivering exceptional power and quick payback.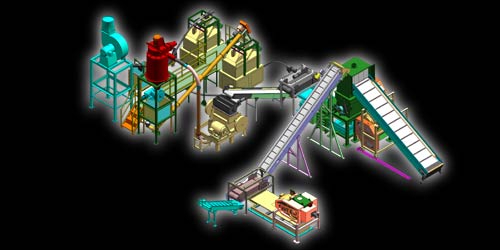 A full Sweed Separation system